Our today's blog is for all those event planners who are looking for amazing event engagement ideas for their next events!
When an event is organized, it becomes an asylum for hundreds of people for at least an hour. So it becomes a place of many excitements, expectations, and ideas.
When Organizers are planning to organize a successful event, they must have to understand what adoptions can make the event remarkable. They should have to know the latest technology trends in the industry that makes people curious to see and create high engagement in events.
According to a study, those events which use technology trends can increase attendance by 20% and decrease the event cost by 30%.
Here are some best technology trends of  events in 2020:
Best Event Technology Trends for 2020
Social Media Walls
Social walls are digital displays that creatively and usefully display the content posted by users on social media. You can aggregate UGC from social media relating to any hashtags, profiles, mentions, and tags.
When we talk about venues, social media wall for events can help you to make the event more interesting and engaging for the attendees. In today's scenarios use of social media in events distinct your events from other events by giving a whole new ambiance.
Displaying the user-generated content on a big monitor or screen looks wonderful in events. And when attendees post their images or videos with some specific event's hashtags on Twitter, Facebook , Instagram and many more then they might see their posts on social walls of events which can create real-time exposure for attendees. This makes the event more interactive, engaging and successful.
  Benefits of social media wall for events:
Create social media buzz before, during and after the event through social walls
Give chances to know the attendees' behavior, opinions, likes, and their valuable vision
Build a social relationship, trust, and reliability along with the growth of brands
Generate sponsorship revenues by adding marketing messages and banners on social walls
Deliver exciting, engaging, and entertaining event experiences
There are many tools in the market for social walls but Taggbox will be the best option to choose from.
Read more: The Most effective ways to use social media walls in events.
RFID Badges
RFID(Radio-frequency Identification) & NFC (Near field communication) use radio waves that work as a smart device when combined with wearables of attendees or badges. It enables the capability to monitor attendees' behavior easily.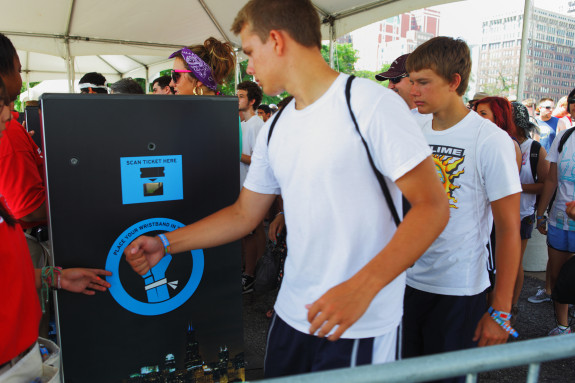 The use of this technology can help event planners in various aspects
Activate fast check-ins
Upgrade sponsorship experience
Cashless Payments
Fraud detection
Over the past couple of years, many planners are using RFID & NFC technology. The popularity of this technology benefits events in minimizing event costs and gathering data without interrupting attendees.
Live Streaming of Event
Based on a survey of 1500+ event professionals, almost all professionals say that engaging attendees is the most crucial task in planning events. We know, event planners do their best to engage audiences but what about online audiences?
Live streaming of events can help in this, providing the event content on the internet can help to reach a wider audience. Selling the access code of streaming also generates new ways of revenues for event planners.
Pros:
Maximize the exposure
Improve events
Provide an online channel of communication
"Crowdsourcing" technology evolves as trending technology in the live streaming of events. Facebook live, Instagram Live, and YouTube live helps attendees to broadcast their personal experiences easily. Creating personal event hashtag and encouraging attendees to use it so event planners can collect the data and measure the potential of events.
Facial Recognition for Events
Facial Recognition technology is one of the best technologies for events. It can match your face from millions of faces easily even from video frames. Event planners have been using this technology for the last few years and are very satisfied.
Benefits of using facial recognition for events:
Fast Check-ins
Improved Personalization
Improve on-site security
Facial recognition technology delivers organizers several benefits from expedited check-in and better access control (compared to traditional authentication methods, such as paper confirmation) to the delivery of a more specified event exposure and a beneficial impression of the on-site event.
Projection-Mapping
World is accepting the technologies vigorously, event planners also want to use technologies in their events to make it more memorable for attendees. Projection mapping is one of the technologies which is used to project visuals on 3D objects in lieu of traditional plane surfaces.
Benefits of projection mapping for the event industry
Improve Engagement
Add memorable feature in events
Easily shareable on social media
Provide an element of interactivity
Artificial Intelligence for an Event
Artificial intelligence is a new trend in event technology. It enhances the engagement of attendees at events. It can provide you highly specified experience even at meetings, conferences & events with 30,000+ attendees. The chatbot is the best example of this.
Installing chatbots in events can help attendees to direct where to go and make events more interactive & memorable.
Benefits of AI in Events
Personalize event experience
Remove languages barrier
Improve event planning process
Offer better network opportunity
Conclusion
With the evolution in technology and attendees' behavior, you always have to keep your eyes open for these new event technologies trends in 2020. No matter which technology trends you adopt, the aim should be only to improve the attendees' experience, interaction and in building a long-lasting memorable relationship.
Take your event's engagement to the next level, by evolving these technologies.