We'll go over two excellent strategies to export OST to PST in this blog post. Just read the entire article and follow the instructions. Any version of Microsoft Outlook may use exported PST files.
MS Outlook is an email software that is commonly used for communication purposes by businesses and workplaces. The majority of customers set up their accounts with Microsoft Exchange Server, which syncs data and saves it in the Offline Storage Table (.ost) file format. On a hard disc, an OST file stores data in an offline mode.
Data is synced and downloaded to the system in the OST file format each time a user checks in using an IMAP account. It keeps data in the inbox up to date with fresh emails, reports, meeting requests, and other items.
When a user opens an account with IMAP setup, it can also function as a web server-based application, storing synchronisation data in (.ost) format.
These files can, however, become unavailable in a variety of circumstances. The user must convert the OST file to an other file format, such as PST, in order to handle the scenario. So that data may be quickly accessible even when the computer is not connected to the internet. I'll show you two ways to convert OST to PST format in the sections below.
Reasons To Export OST File Into PST Format
There are a variety of reasons why a user would need to convert an Exchange IMAP.ost to.pst file. Here are a few of them:
1. MS Exchange server can crash suddenly for a variety of causes, including:
Power Outages, Malicious Software Virus Attacks, and Other Issues
When data becomes unavailable and the screen shows error warnings continuously, such situations are tough to handle.
2. Due to Exchange Server maintenance and unavailability, it might be difficult to retrieve mailbox data in some situations. Data is saved in the mailbox using the.ost extension, which synchronises with the server and makes it unavailable. To have access to the data, users must convert their emails from OST to PST format.
4. Data migration can also be aided by converting OST to PST. It is simple to migrate PST data from one location to another when the user wishes to do so.
5. The OST file becomes an orphan while the Exchange profile is dormant. You only have one choice in this situation: convert the Outlook OST file to PST format and access all of the data.
OST to PST Conversion Methods
We now know when we should convert an OST file to a PST file. However, in the following part, we'll go over various techniques for exporting OST data to PST.
#1. Export OST to PST For Free
#2. Migrate OST to PST Using Expert Solution
Let's check out how these methods will export your OST file data into a new PST file.
Method 1: Manually Transfer OST Emails to PST Format
Your machine must be equipped with Outlook and connected to the MS Exchange server in order to manually convert OST to PST files. The following are the steps to take for the next procedure:
1. Open MS Outlook, then select "File" and "Import/Export" from the drop-down menu.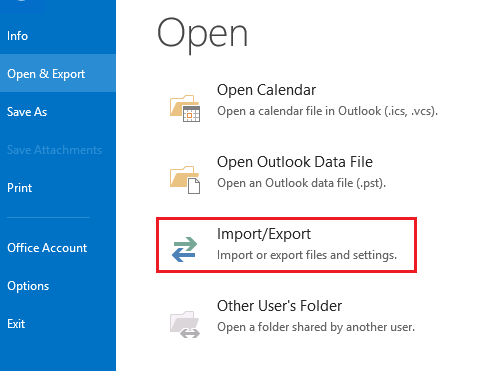 2. A new conversation box appears, prompting you to "choose an action to carry out." Proceed by clicking "Export to a File."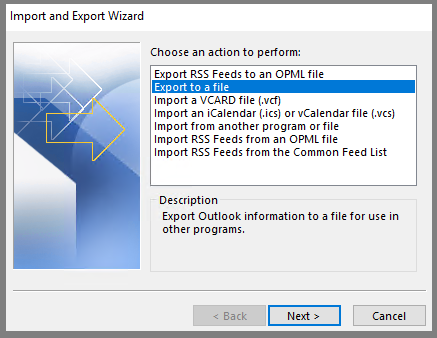 3. Choose the file type to import on the following screen. Then click "Next" and choose "Outlook data file (.pst).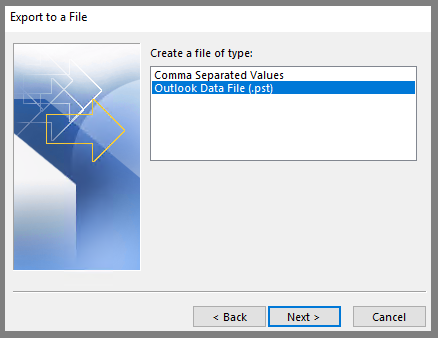 4. Click "Next" after selecting the folder from which to export data.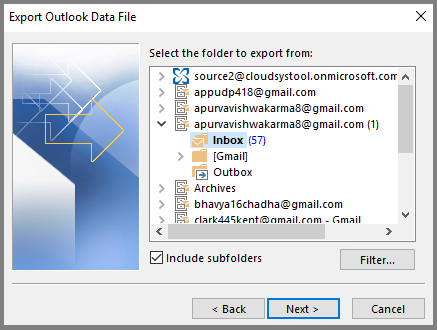 5. Select "Allow duplicates to be made" from the drop-down menu, then "Finish."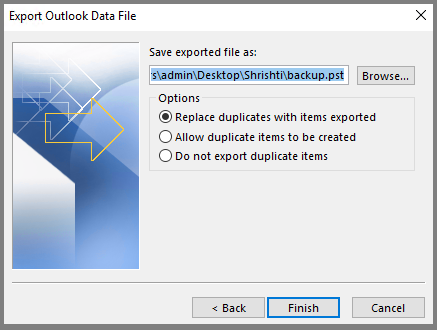 6. A new pop-up window will appear, asking for an optional password. Without inputting it, you may easily proceed.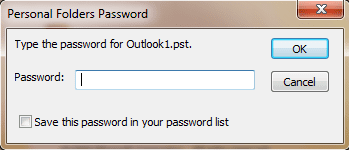 Now you may manually convert Microsoft OST data to Outlook PST files. At the designated location, you may check your OST files that have been stored in PST file format.
limitations of Native Solution
As indicated above, the manual technique to export OST to PST Outlook has several downsides, which are listed below:
In the system, you'll need to set up an Outlook account.
The MS Exchange Server must be linked to the system.
When compared to manual procedures, the process is sluggish.
Data loss or corruption is a possibility.
The technique must be followed by a technical specialist.
Method 2: Instantly Move OST to PST Format
It is suggested that we utilise an automated solution to export OST to PST without Outlook to get over the limits.
The OST Converter is one of the most useful third-party programmes for accomplishing this operation. It completes the converting procedure in just a few easy steps, with no dangers or chances of making an error.
This application converts OST mailboxes to PST files. It also lets us restore, backup, and extract all of the contents of offline OST filesA
Aids in the conversion of IMAP.ost to.pst with no file size restrictions. This tool allows you to get a preview of data before converting it, such as emails, contacts, calendars, or other mailbox items.
This amazing utility also convert OST to PDF, PST, HTML, MSG, EML, MBOX, PDF, vCard, CSV, ICS, and TXT. It also offers a free demo version with the restriction of only exporting the first 25 items folder. After that, if the customer is happy, they may purchase a licenced version at a reasonable fee.
Steps To Export OST to PST Using Automated Tool
Follow the given below instructions and save orphan or inaccessible OST file data into PST format with ease.
1. Install and Launch SysConverter for OST on your Windows Operating System.
2. After that, select Open >> Email Data File >> OST File >> Select File from Folder.
3. Then click on the Export and choose PST from the given saving options.
4. At last, browse the location to save the converted PST file and hit on the Save button.
Here completes the export process. Now you have a PST file that can be accessed on any Outlook version without an issue.
Conclusion
Although manual techniques are quick and easy to use, they do have certain drawbacks. If your machine is equipped with MS Outlook and Exchange Server, you may convert OST to PST manually for free. The processes for these approaches are generally lengthy.
Converting your OST file emails to PST files with third-party software is a more convenient and efficient technique. Because of its user-friendliness and extensive features, we recommend using this programme. Deal with your important data with this dependable and effective programme.
Challenges Users Face When Try to Exporting OST files into PST Manually
Users may easily regenerate OST data files when Outlook is linked to Exchange. However, if your Exchange server is down, whether momentarily or permanently, there are a few things you may do. Re-creating OST files isn't doable. In this case, a PST converter programme is required, but what difficulties do users have while manually converting an OST file to a PST?
Users must have the same Exchange user account to view an OST file. Only the exchange account that was used to build it has access to it. All I want to add is that only Outlook users with the original version of Outlook may convert their OST files to PST files.
It is not possible to convert an OST file that has been corrupted: You're probably aware that Outlook won't open data from a damaged OST file. You won't be able to generate your OST file to replace a corrupted one if your exchange server is offline. When manual OST file conversion is no longer feasible, this is the situation.
Exchange Mailboxes can't recover orphaned Outlook OST files: Orphaned OST files are OST files that have been disconnected from your Exchange server. When Exchange fails, such an orphaned OST file becomes the only source of a user's mailbox data. Surprisingly, no manual conversion procedure exists for orphaned OST data files. Only manual procedures are used to convert an OST file that is linked to your Exchange server.
For More Such Article: Read Here..