Top 10 Benefits of Using the Rank Math SEO Plugin for WordPress
So, what makes Rank Math such a powerful SEO plugin? Why are almost all bloggers switching to RankMath SEO plugin in WordPress? Here are the top 10 reasons (read more about the benefits)
1. Perform on-site SEO analysis on the go
One of the unique features of Rank Math is that it provides you with an SEO analysis of your website.
Once the plugin is installed, simply click on the SEO Analysis tab in the Math Ranking settings to start the process.
This plugin will automatically start analyzing your website once you click the "Start whole site analysis" button. Once the analysis is done, it shows an SEO score (which is 100).
This is how it looks;

As you can see above, you will be shown three tests, including the number of tests passed, warnings, and failed tests. In most cases, you should take care to correct the "failed tests" because they can negatively affect your search engine rankings.
In fact, Rank Math will analyze your website and your website content using over 70 different tests to help you optimize your site perfectly.
Performing frequent site audits, such as SEO analysis of your site, helps you find and troubleshoot your website so that you can improve your overall search ranking.
2. Optimize up to five keywords
One of the main reasons most bloggers switch from Yoast to Rank Math is that RankMath allows you to optimize your posts for a maximum of 5 keywords.
With Yoast, you can optimize for just one keyword (with its premium version, you can optimize for multiple keywords).
Gone are the days when you could optimize your blog posts for a single keyword. In order to properly optimize your content, you need to use multiple keywords. That's where this feature comes in handy.
In fact, you can optimize for unlimited keywords using the following filter.

As you can see above, just replace the number 10 with any number to easily increase or decrease the number of maximum focus keywords that can be added in a single post.
3. Track your keyword positions in search results.
RankMath's integration with Google Search Console (GSC) is simply amazing. Once you connect your GSC account with RankMath, you will be able to discover almost everything from your plugin dashboard.
In fact, you will discover a lot of information that includes;
All the keywords that your site ranks
Total number of clicks your site receives for each of those keywords.
Average CTR (clickthrough rate)
The position of your website for those keywords in the search results.
This is how it looks;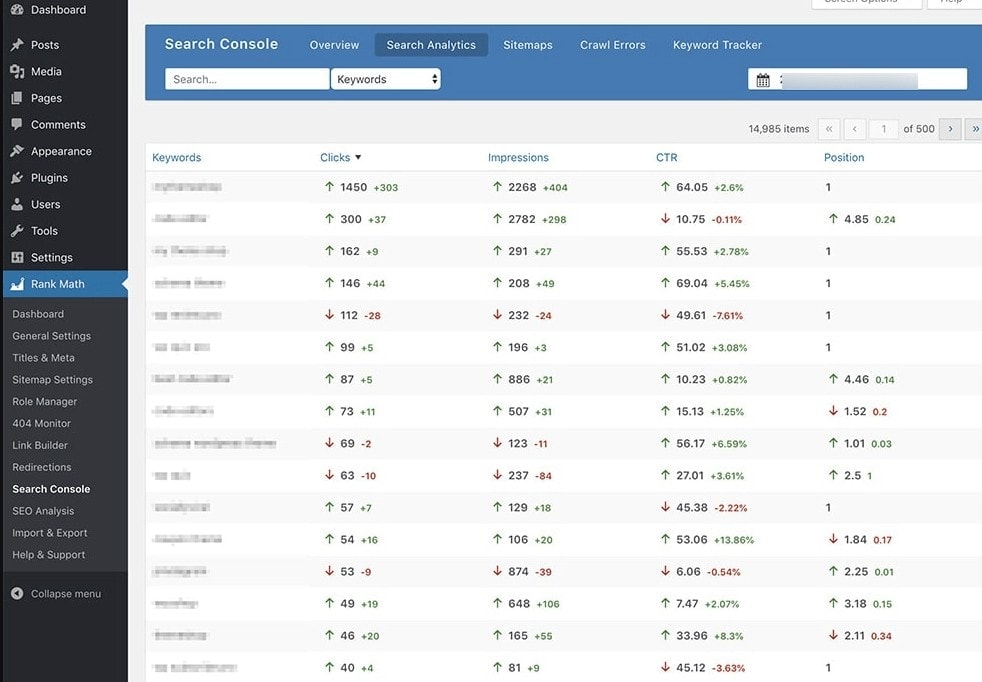 That means you can easily keep an eye on the current positions of your keywords. There is another amazing feature called "Keyword Tracker" coming soon to help you track your website ranking for the keywords you choose.
4. No third party plugins required for Rich Snippets
Schema Markup, also known as Rich Snippets, is one of the best ways to help your website stand out from your competitors.
When schema markup is implemented (there are several types of schema), this is what it looks like;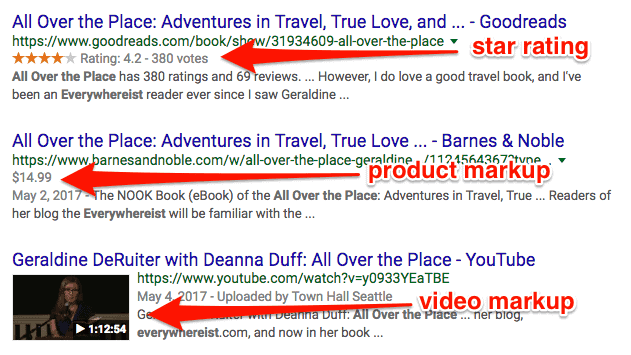 Fortunately, you don't have to install or depend on any other plugin or tool to implement schema markup on your site if you are using the RankMath plugin. Why? Because it offers you Schema Markup where you can add 14 different types of Schema.
You can easily optimize your content for rich snippets and local SEO so that your content is better understood by search engines. It doesn't matter if you are running a blog, WooCommerce store, or review website, you can use the RankMath plugin to easily implement Schema Markup (aka Rich Snippets).
5. SEO automation of images
Did you know that Rank Math allows you to automatically add ALT and title tags to your images? Yes, if you are looking for image SEO optimization, this plugin is extremely helpful for you.
In case you already have a bunch of blog posts that have images without alt tags, by using this plugin you can add them automatically.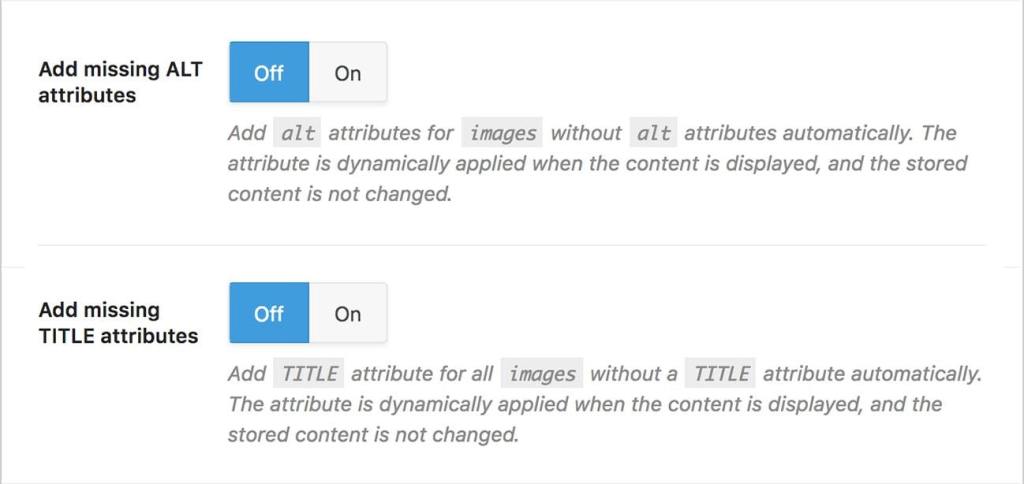 As you can see above, just turn on image SEO from plugin settings and it automatically adds alt attributes for images without alt tags. Similarly, you can turn on the missing caption attributions feature to add captions to all images that do not have any caption attributes.
Must Read: Image SEO – How to Optimize Your Blog Images for More Traffic
6. Redirect manager
Most SEO plugins, including the free version of the Yoast SEO plugin, do not offer factory redirect. But it is not the same case with RankMath as it offers you an advanced redirect manager.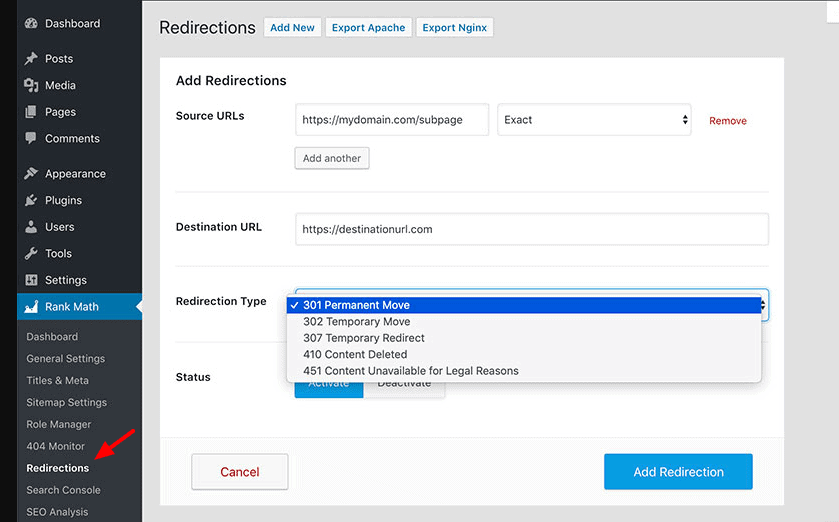 You can choose from several types of redirects, including;
301 permanent move
302 temporary move
307 temporary redirects
410 content removed
451 content not available, etc.
Besides the redirect manager, you can also edit the two most important files on your site which are;
.htaccess Editor (you can easily edit and modify your .htaccess file directly from your WP dashboard and Rank Math automatically backs up your .htaccess file before saving any changes to avoid accidental issues)
Robots.txt editor (you can easily create and update your robots.txt file directly from your WordPress dashboard)
7. 404 monitor helps you fix your 404 error pages quickly
A 404 error occurs when you try to visit a page that does not exist. 404 errors are detrimental to your website SEO as they can create a bad experience for website users.
This is why you should always keep an eye out for your website's 404 error pages.
RankMath makes it a lot easier by offering a unique feature called a 404 monitor. It helps you easily check where 404 errors are seen by your website users and redirect them from your dashboard.
The 404 monitor basically offers two modes.
Simple mode only catches 404 errors
Advanced mode captures everything including error page, reference page including user agent
By regularly keeping an eye on RankMath's 404 monitor, you can not only fix those 404 errors, but also provide a better experience for your website visitors.
Read: How To Remove Bad Backlinks To Boost Your Site SEO
8. Integration of social networks
We all know SEO is powerful, but if you are looking for faster ways to increase your traffic, social media can come in handy. To get the most out of social media, you need to create images, title tags, etc. attractive and unique.
Fortunately, RankMath offers social media integration under the Social tab that you can find in Rank Math's Meta Box.
This is how it looks;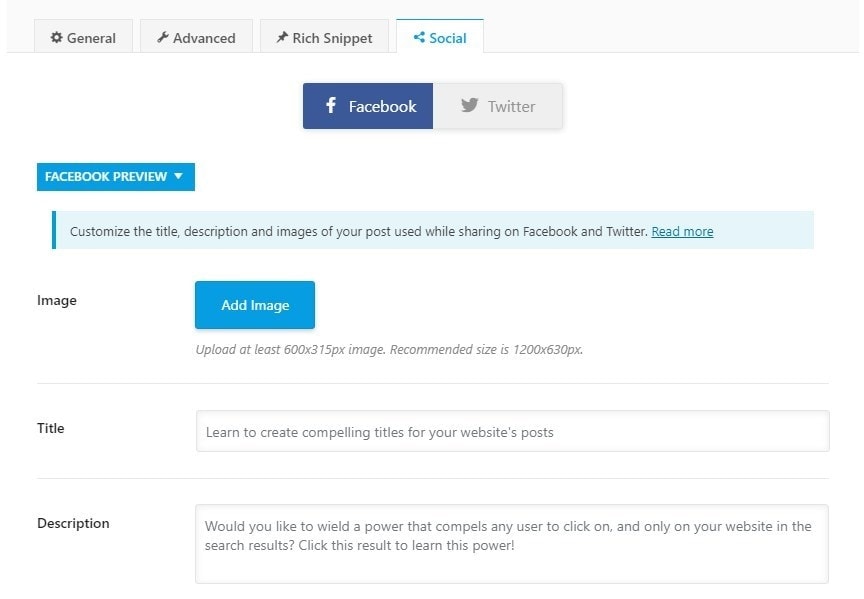 As you can see above, RankMath currently offers social previews for two of the most popular social networks, which are Facebook and Twitter.
You can easily use the Open Graph feature of these two platforms to add unique titles, descriptions, and images to your posts while sharing them on FB and Twitter.
9. Offers you LSI keyword suggestions
Did you know that you can get automatic LSI keyword suggestions around your focus keyword when using RankMath?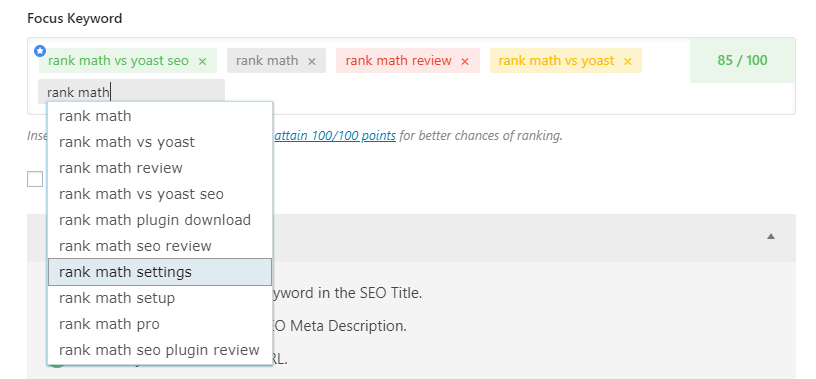 As you can see, RankMath automatically suggests relevant LSI keywords so you can optimize your content for better rankings (without keyword stuffing).
Whether you know it or not, using LSI (latent semantic keywords) keywords can help you improve search traffic. In fact, you can rank for multiple keywords on one page (if you use LSI keywords).
So if you are looking to increase your organic traffic with LSI keywords, you don't need any additional tools as RankMath helps you with that. You just need to connect your Rank Math account to get unlimited keyword suggestions from Google.
10. Offers a modular framework
Unlike most other SEO plugins (including Yoast SEO), RankMath offers a modular framework. That means you can use only what you need and disable the rest of the modules you don't need.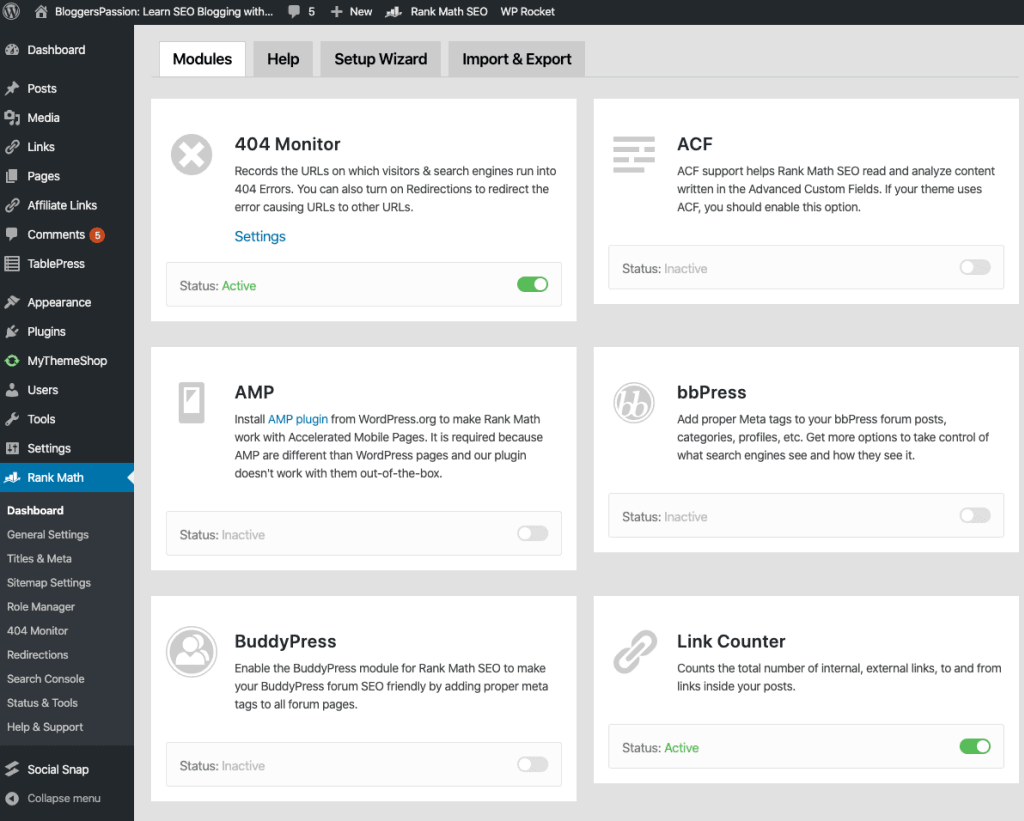 As you can see above, there are a ton of modules offered by RankMath. You can decide which module to use and which to put aside. That means you are in full control of your website and can disable or enable modules whenever you want.
Yoast SEO vs RankMath SEO: What's the difference?
Before discussing the differences between Yoast SEO and Rank Math, take a look at the following illustration.

As you can see above, RankMath uses less coding, fewer PHP requests (thus offering more speed than Yoast SEO).
So if you are looking for a lightweight plugin to install on your WordPress sites, using RankMath instead of Yoast is a no-brainer.
Apart from speed, the main difference lies in its characteristics. What Yoast SEO offers in its premium version is what you get for free at RankMath. Isn't it amazing?
These are some of the notable features of the Yoast SEO and RankMath SEO plugins.
Yoast SEO Keyword Optimization vs. Rank Math: You can optimize only one focus keyword using Yoast, but its premium version allows you to optimize for multiple keywords. With RankMath, you can optimize up to 5 keywords (free version).
Winner? RankMath
Yoast SEO Content Analysis vs. Rank Math: Yoast SEO Content Analysis tells you if your posts optimization is good or bad, that's it! But RankMath gives you an SEO score of 100. Anything above 80 is actually a good score!

Winner? RankMath
Google Schema Integration in RankMath: RankMath offers you built-in integration of rich snippets of Google Schemas for different categories such as articles, books, reviews, events, etc. But you won't find this amazing feature in Yoast SEO.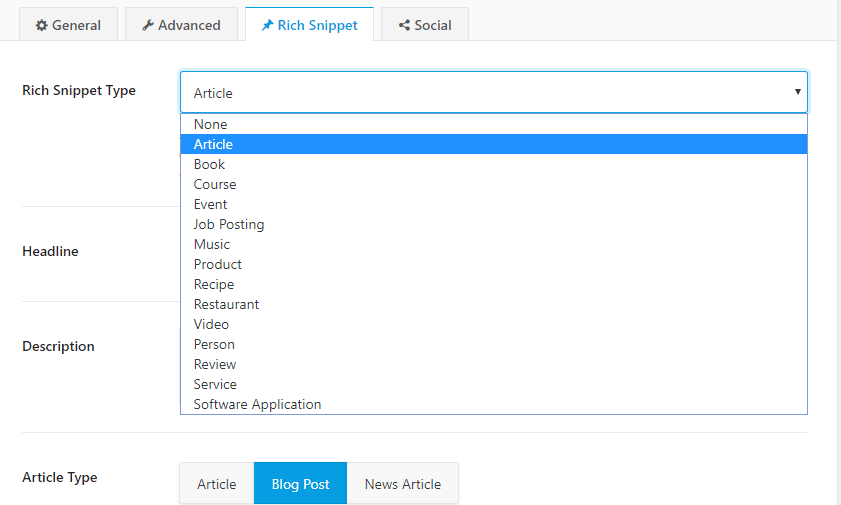 Winner? RankMath
Free or paid: RankMath offers almost all the features that the Yoast plugin offers and its use is completely free (for now at least). Yoast SEO offers free and premium versions. Its paid version costs you $ 89 per year, where it will unlock all its features, including;
You can optimize up to 5 keywords (available for free at RankMath)
Internal linking suggestions (available for free at RankMath)
URL redirect feature (available for free at RankMath)
Social Media Preview (Available Free at RankMath)
In fact, you can check out our detailed free vs premium Yoast review for more details.
So the overall winner? It's clearly RankMath for now.
Click here to download RankMath for free
Math classification settings
Quick note: We're not going to go into any in-depth details about setting up Rank Math as their official blog already has a great tutorial on how to set up the Rank Math SEO plugin. So, we will talk about the basic (but essential) things that you need to do after installing the plugin.
If you are already using an optimization plugin like Yoast SEO, you can import all your SEO settings into RankMath. That means you don't have to do the entire optimization part manually for your individual blog posts or pages.
The good thing is that Rank Math will automatically detect which SEO plugin you are currently using and help you easily decide which settings you can import.
For example, if you are already using Yoast SEO, this is what the import section looks like;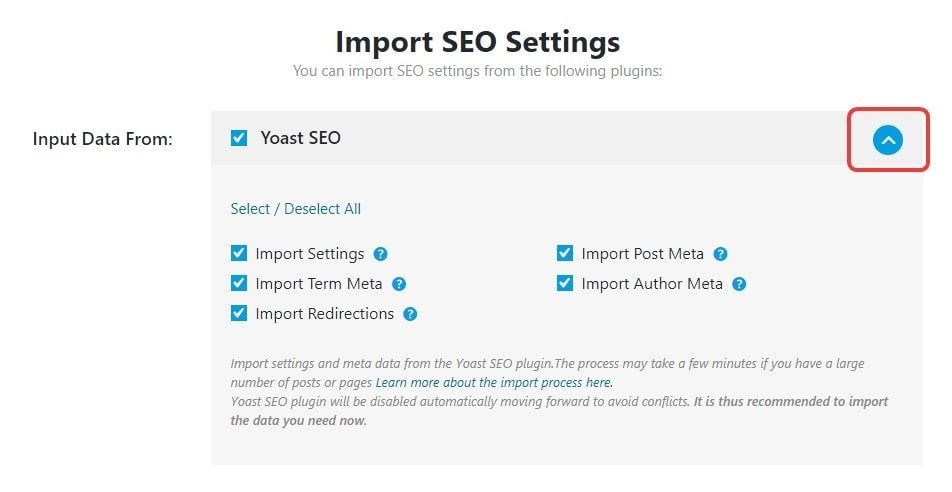 As you can see above, you can import everything from
Settings
Target term
Post goal
Redirects
Target author
Once this is done, you need to implement a couple of things including;
Select your site (personal blog, ecommerce store, etc.)
Connect your site with the Google search console
Site Maps
All the steps mentioned above are easy if you have already used Yoast SEO or any other SEO optimization plugin on WordPress sites.
Here are some simple optimization settings you can implement in RankMath to get better rankings.
Noindex empty category and tag files
Nofollow image file links
Nofollow External Links (you can enable it if you don't want to pass any link juice to external sites)
Open new tab / external links window (this option is the one we recommend and we are following the same method for a long time on Bloggers Passion)
Strip Category Base (enable)
Once you have done the above, click the "Save and continue" button to finish the process.
This is how it looks;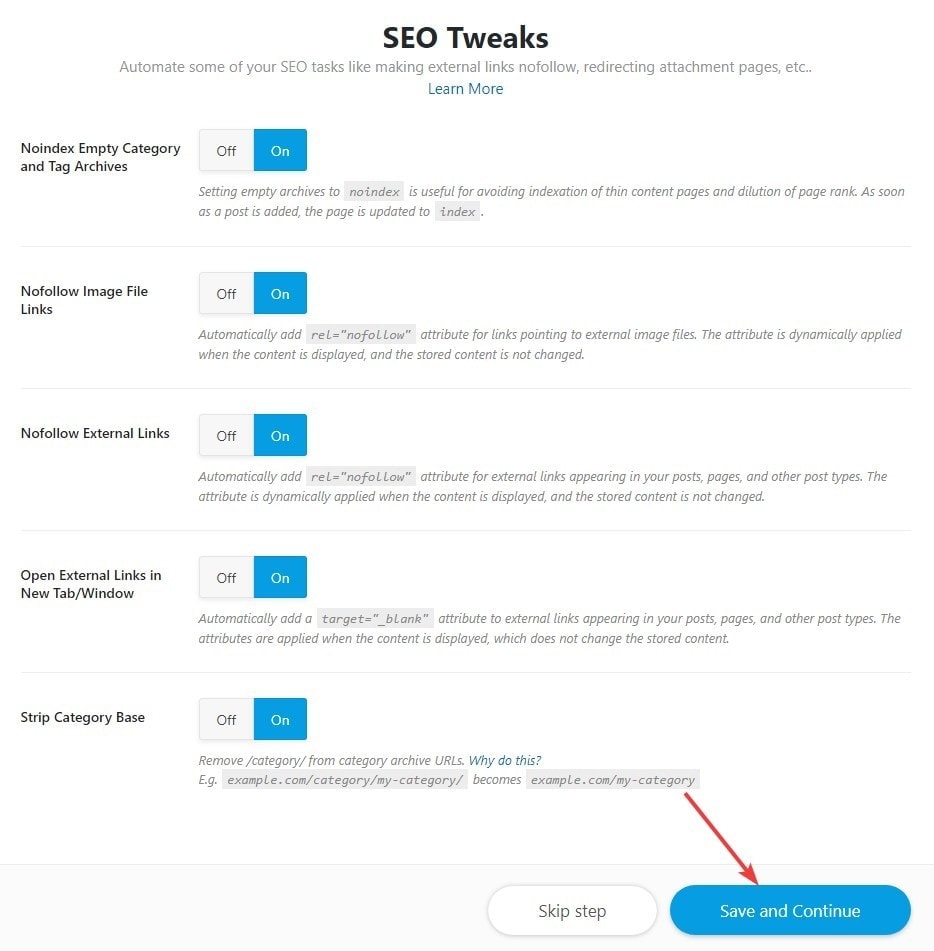 As you can see, RankMath automatically suggests relevant LSI keywords in WordPress  so you can optimize your content for better ranking (without keyword stuffing).
That's it, that's it.
At the post level, this is what the Rank Math SEO settings look like;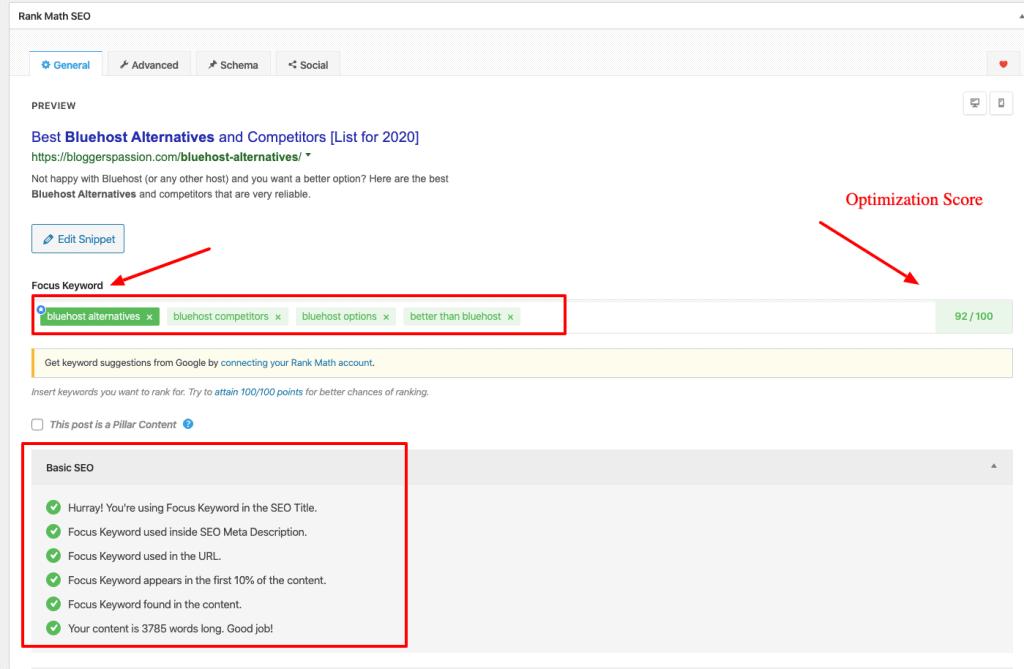 As you can see above, there are several things that you will notice including;
Preview your blog post (where you can add or edit your title, including meta description)
Focus keywords (you can target multiple focus keywords for a single post)
Basic SEO Tips (suggests where to insert keywords for better optimization)
Optimization score (also gives you a score so you can easily find out how well your page is optimized for your focus keywords)
You can also add unique previews for social media. Using it, you can easily customize your title, description, and images while sharing on Facebook and Twitter.
Pros and cons of rank math in WordPress
This Rank Math review will be incomplete if we don't talk about the benefits and limitations. These are some of the notable pros and cons of the Rank Math SEO plugin.
Pros:
It is extremely easy to use as it offers an intuitive layout that helps you to use the plugin practically out of the box.
You can easily import the settings from other SEO plugins like Yoast, AIO plugin, etc.
Absolutely free to use on any number of sites you own (How can this awesome plugin be FREE?)
Offers Google Search Console integration to help you with everything from crawl problems to keyword tracking
It is a lightweight plugin (it does not affect your site speed at all)
Offers rich snippets (so no additional plugins needed)
Has a great community on Facebook group (they also offer 24/7 customer support on their website)
Offers a redirect module
Allows you to optimize up to 5 keywords
It is compatible with almost all WordPress themes.
Automatically add alt tags for missing images
Helpful support as they also have a dedicated forum
Cons:
Other WordPress SEO plugins DO NOT support importing from RankMath as of now (so if you want to go from RankMath to any other SEO plugin after using it for a while, you will face difficulties)
Why did we switch from Yoast to Rank Math?
We have used the premium version of the Yoast SEO plugin for several years at Bloggers Passion. We REALLY liked it. At the same time, we spend around $ 100 a year on it.
RankMath offers almost all the features that are offered in the premium version of Yoast for FREE.
In fact, we are extremely surprised to see the features and benefits of the FREE RankMath plugin. To be honest, price is the main reason we moved from Yoast.
Why spend $ 100 a year if you get the same features (indeed additional features) in a free add-on?
Besides the price, there is ONE more reason we migrated from Yoast to RankMath.
RankMath helped us disable various plugins.
Here are some of those add-ons;
Schema plugin (RankMath offers built-in schema integration)
Redirect plugin (offers you default redirects)
AMP support for accelerated mobile pages
404 error monitor (RankMath offers it by default)
So yeah, if a plugin saves us money and additional plugin usage, why not use it?
Even if they start charging in by offering some more useful features, we'll be happy to pay for RankMath!
So if you've never used any WordPress SEO plugin, you should definitely install RankMath and just follow its setup wizard and watch your rankings grow.
If you are already using a plugin like Yoast SEO in WordPress, you can give RankMath a try and make sure to import your settings with one click and enjoy all the added benefits.
SEO tools worth trying:
SEMrush impartial review with 30-day free trial
Serpstat Review: Is It The Best SEO Tool?
SpyFu Review: Is It The Best Competitor Analysis Tool?
KWFinder Review: Is It The Only Keyword Research Tool You Need?
Frequently asked questions about the Rank Math SEO plugin
These are some of the most interesting and frequently asked questions about the # 1 optimization plugin i.e RankMath.
Do I have to remove other WordPress SEO plugins if I install Rank Math?
Yes, you should. If you are already using other WordPress SEO plugins like Yoast, AIO, etc., it is always preferable to disable those plugins. RankMath is an all-in-one SEO related plugin that helps you with everything related to on-page optimization. In fact, you can easily import your existing data from Yoast or AIO plugins with just one click.
Is Rank Math Really Free in WordPress?
Yes, it is completely free for now. You can get all of its current features using its free plugin and you can download it from here. You can also use this plugin on any number of sites you own.
RankMath vs Yoast SEO: Which is better?
Rank Math is better as it offers almost all the features you need with on-page SEO. In fact, you can get all the features that are offered in Yoast SEO premium for free when you use RankMath and it also has many additional features.
Is it easy to migrate to Rank Math from other plugins?
Yes, it is extremely easy. Once you install the RankMath plugin, it will automatically detect the SEO plugin you are using and help you easily import all your SEO settings with the click of a button from various SEO plugins including;
Yoast SEO
AIO plugin
SEOPress SEO
Rich snippets of everything in one outline
Redirect plugin
What if I need help with the Rank Math plugin?
If you ever need help with the Rank Math plugin, you can visit the links below.
Detailed Rank Math documentation, where you can find tons of detailed articles on using Rank Math (from installation to setup, troubleshooting, etc.)
Knowledge Base Articles (where you can find helpful tutorials on the plugin)
Rank Math Forum (a useful forum where you can ask questions about any topic related to the plugin)
Facebook Group (it is a responsive FB group where you can do SEO queries or plugin related stuff)
Final Thoughts on Rank Math's SEO Review in WordPress
If you are a newbie blogger or SEO expert, Rank Math can definitely help you with better optimization.
We're pretty sure RankMath will introduce its premium version soon (by offering a few more features), but for now, it's the BEST SEO plugin for WordPress users.
So what SEO plugin are you currently using? Have more questions about the RankMath plugin? Let us know your thoughts in the comments.